Deep Dive
One to one Creative Mentoring
Deep Dive is six 60 mins long calls.
You are a wholehearted creative. You seek clarity and direction, support to uncover the stories you have been telling yourself for years, gentle-handholding to get out of confusion and those creative ruts and to take up some space.
You are aching to forge your own path, follow your curiosities and to not leave any of your parts behind. You are tired of playing small and so ready to hold space for your wildest dreams of creating art, sharing your message and your ideas and your stories to come to life.
You long for the creative confidence and a belief that you are enough, and oh so capable of creating the art you want to create, show up as who you are and stand up for what you believe in and also to achieve the lifestyle you dream of.
You value connection, creativity, intuition, truth, courage, and vulnerability.
How We Work Together
Once you get in touch, I will share a questionnaire with you to help you set the intention for our call. You will be able to share what you are struggling with and I will try my very best to hold space for you to work it out during our coaching call. The coaching call will be done via Skype Audio Call. During the call, I will ask questions to help you dive deeper into what's been standing in your way all this time and how you can come up with solutions that would work best for you. Our coaching call together is led by you to make sure you get the most out it. After the call, I will share a recording of our call, notes and practical tasks for you to keep working towards your goal and a list of resources to dive into around your specific situation and needs.
Client Story
Joy Caroni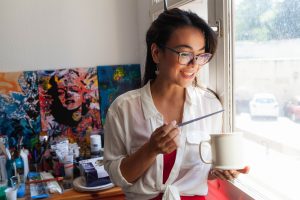 – Acrylic Artist of joycaronistudio.com
Before our session, I was not sure how much value I'd get out of it and also, there was the kind of insecurity that comes up when you are meeting someone you've never met before to discuss such intimate details about yourself which were quickly put to rest by your warmth and smile. I love your energy! Hira is such a great listener, and she deeply understood my struggles and was able to help me find solutions. I never felt any judgment from her. And I loved her gift for taking my bullshit excuses and helping me to see them for what they are, just excuses. And amazing advice for actionable steps to put into place.
After our session, I've created a yearly planner and I am sticking to the goals and it gives me such a great overview of the year and a monthly breakdown of what I can be accomplishing. 100% thanks to Hira's recommendation to get a better overview, look at the bigger picture, and identify and to define my non-negotiables.
Huge win for me would be better focus and objectivity to start the things that originally felt huge and overwhelming. I'm working on getting automated systems in place so I can focus better on the thing that I love doing, creating art.
I love working with Hira and appreciate her so much. Her organizational skills are legendary. Her patience and kindness are wonderful. I always come away from a call inspired and motivated to get things done. Hira is just brilliant at problem-solving! I could not recommend working with Hira enough. Her counsel is complementary to an artist like me, no matter the industry you're in.
Some specific areas I can help with…
Providing you a safe space to explore your passions, dreams, hopes and deepest desires
Gaining clarity, focus, and direction
Helping you set goals that are in alignment with who you are
Working through fears and limiting beliefs that might be holding you back
Developing the confidence to create and show up in a way that feels right for you
Talking you through the stories you have been telling yourself
Figuring out ways in which you can cultivate and manifest your creativity
Sharing my honest feedback on your projects
Supporting you in your upcoming creative projects
Helping you setting goals or breaking down big dreams into tiny actionable steps
Holding you accountable
Bringing the joy back into your process
Helping you find inspiration and motivation to keep moving forward
Sharing my personal story, journey and struggles to help you move past yours
Talking it out with someone who gets it, who has walked the path and made it to the other side
Finding your personal style and your artistic voice
Coping with the fear of not being good enough, original enough or creative enough
Getting to the heart of your message and story
Owning your story
Coping with guilt and resentment that comes from avoiding and denying our creativity for years
Helping with the overwhelm and cutting through the noise to find your own voice
Reframing the stories you've been telling yourself from years
Listening to your any frustrations that you might be facing
Celebrating your big or small wins and cheering you on
This is for you if…
You seek clarity, focus, and direction around your creative work and life
You feel overwhelmed, confused and anxious
You constantly doubt yourself, re-edit and even censor yourself
You secretly believe your story, your work or your ideas aren't worthy enough to be shared
You are afraid that you are not being creative, original, good or authentic enough
You find yourself constantly wrestling with the limiting self-beliefs and stories you have been telling yourself for years
You start your mornings with an aching desire in your heart to create, express, bring your imaginations and inspirations into reality
You are unsure about your creative calling
You have too many creative passions and you can't seem to settle for one
You want to discover your strengths and want to build on them
You often feel uninspired and end up procrastinating the time you have in your hands
You need some accountability in your creative work and life
You feel like you don't have enough time on your hands to be creative
You are creative and nurture your craft on a regular basis but you have lost the sense of joy and excitement
You need help in opening yourself up to new ideas in your life and creative endeavors
This is for you if you know you'd benefit from help and support from someone who has been there and have lived it.
This is not for you if…
You are looking for an easy way out, a blueprint or a formula to make success happen overnight. Making things on our own terms take time and hard work. I am not a consultant and I'm not going to tell you exactly what to do. I don't assume to know you or what's best for your creative work and life better than you. I'll help you increase your understanding through conversations and practical exercises, share my personal stories and experiences, teach you what I know, work with you to cultivate courage and an unshakeable self-belief but you must be willing to take the responsibility and do the work yourself, though I will be right there with you to encourage you every step of the way.
Your Investment and what's included:
450 €
6 Skype Video Calls
(approximately 60 mins long each)
After each call together, you'll get
A recording of our call
Practical exercises and tasks
A list of resources to dive deeper into
Accountability
Access to email conversations in between our calls together
My promise to you:
In our every interaction together, I will act with honesty, sincerity, and integrity without any outside distractions to be fully present with you. I will ask direct questions to make you think & come closer to your truth and offer suggestions after asking for your permission first.
My expectation from you:
You are curious, open to change and willing to be honest with yourself and with me. You are committed to action and evolution. You set the agenda and tell me what you need for each session. You determine your goals and priorities. You define success for yourself. You keep your commitments and are fully present for each session.
---
To Book your spot:
If contact forms are not your thing, you can email me directly at info at hirasahmed dot com